Community Projects
Swaffield School is proud to be an integral part of the local community and we play a key and active role in the local area. We bring communities together and ensuring our school life is a true reflection of the Wandsworth community within which we are based.
Our community liaison, Ms Crolle, works very closely to build relationships with local people and organisations and this has had a huge impact not only on our pupils but members of our community.
From visiting the Friendship Group at West Side Church, raising money for the Poppy Appeal, meeting a famous climber of Everest, to celebrating the culturally rich heritage of our children, we have a real community focus at Swaffield.
Currently our outreach projects include links with West Side Church, Friendship Group, Wandsworth Foodbank, St Ann's Church, Royal British Legion, British Red Cross, Anchor Church, The Peace Run, Inner Peace Day London, Macmillan, and Hestia Age Concern.
Interested in working with Swaffield School?
If you'd like to see how you could work with Swaffield, Ms Crolle would be happy to hear from you; please email her on swaffield@swaffield.wandsworth.sch.uk with the subject line: Community Liaison.
Events
Throughout the academic year, Ms Crolle organises a wide range of activities that the children enjoy. These activities include Harvest Festival, Black History Month, Christmas Puppet Shows, Chinese New Year, Diwali, Eid, collections for those less fortunate than us, as well as to samosa sales, they are enjoyed enormously by Swaffield's pupils.
Here are some of the highlights (click on the blue text to read more):
Around the World Day - see below

West Side Church Puppet Christmas
Eco Club's Green Day - read more about it here
Chinese New Year

Black History Month - see below

Diwali
Pennies Collection for Hurricane Irma
Around The World Day
Swaffield is culturally rich and Around the World Day is a celebration of this fabulous diversity.
At our last Around the World Day parents were invited to host a stall to represent a country with which they have a connection.
Children were asked to dress up to represent their chosen country and will spend the day visiting our country stalls and exploring the different cultures that form our school community.
Around The World Day 2020
Black History Month 2021
Celebrating Black History Month in October meant that children in all year groups involved in a wide range of activities that celebrate influential black women and men from both the present day and history.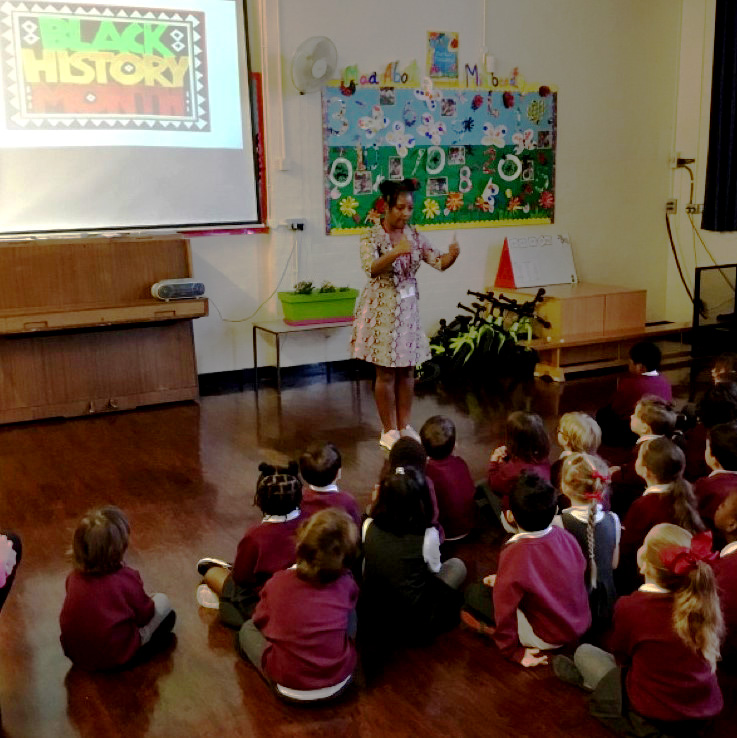 This Black History Month, every class from Nursery to Year 6 has chosen a significant individual, who is black and British and who inspires them, to research, write about, and then draw or paint a portrait.
The children really enjoyed learning about their chosen person and have produced excellent work.
We're very excited about the range of choices which include: Scientist, Dr Maggie Aderin-Pocock; local Olympic boxer, Joe Joyce; cellist, Sheku Kanneh-Mason MBE; professional footballer and WW1 officer, Walter Tull. These were shared with parents as a display in the last week before half term.
Take a look here:
Black History Month 2021
Throughout the month, Ms Crolle held a series of Black History Month whole school assemblies. This began on 4th October with a focus on "Resilience" through the shared story of how Bob Marley overcame many obstacles on his way to becoming a world-famous musician and songwriter. It was in Britain that Marley established himself as an international artist, recorded some of his most successful albums and performed some of his most memorable concerts.
International Reggae Star Performs at Swaffield
As part of our Black History Month celebrations, we were delighted to welcome local musician and international reggae star, Nu Flowah, to assembly.
Nu Flowah, performed songs from his new album (which has just been released) to an audience of children from Reception to Year 6. Nu Flowah's lyrics echo those of our Black History Month focus on friendship, family, community as well as strong values and making the right choices.
The children were inspired by Nu Flowah's joyful songs about giving thanks and being grateful and resilient even when things are down.
Thank you Nu Flowah!
CARIBBEAN COOKERY BRINGS WINDRUSH HISTORY TO LIFE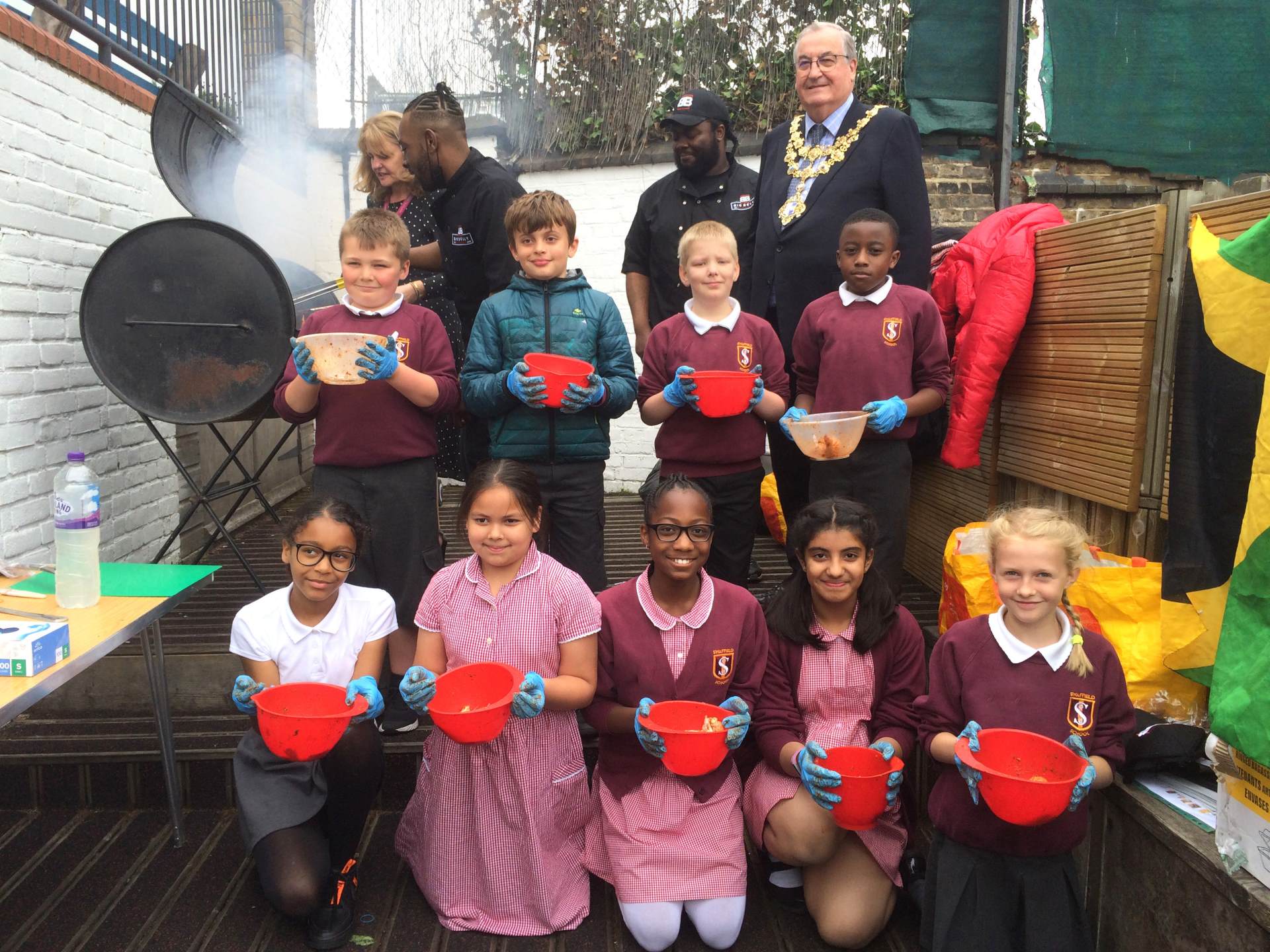 The true taste of the Caribbean brought to life Swaffield School's Year 5 studies of the ship Empire Windrush linking their history topic with their food technology lessons. With special guest The Worshipful the Mayor of Wandsworth, Councillor Richard Field, the event marked the anniversary of the ship's arrival on Tuesday June 22, 1948 with passengers from the countries of the Caribbean, including Jamaica, invited to come to Britain to help rebuild the country after the Second World War, as well as the positive impact and legacy of the Windrush Generation.
Swaffield's Year 5 choir set the scene with a fabulous rendition of "London is the Place for Me" by Lord Kitchener, who was on the Empire Windrush. The calypso rhythm song came over with the Windrush Generation celebrating the hope and excitement of families coming from the Caribbean.
Year 5 children were thrilled with a hands-on demonstration of Caribbean cookery with the talented staff and 'Dad' from Big Belly Kitchen in Tooting. The children learned to prepare delicious jerk chicken and jerk vegetable skewers to accompany seasoned rice - what a delicious treat to take home at the end of the day.
Click the picture below to watch our film:


Ms Crolle, Swaffield's Community Liaison, arranged the cookery workshop and said:
"Year 5 have been learning about the hugely positive impact that the Windrush generation had in rebuilding this country after WW2. This event was quite literally a taste of the food that would have reminded all those people of the home they had left behind to start a new life. We are grateful to the excellent chefs from Big Belly Kitchen for sharing their skills with us and are proud to share this with The Worshipful the Mayor of Wandsworth, Councillor Richard Field. "

Ms Hamilton, Swaffield's Head Teacher, said:
"This event was an imaginative way to bring history to life for our Year 5 children as well as inspiring them by meeting these entrepreneurial chefs. The cross-curricular linking of history and food technology has had a really positive impact on the children's learning."
YEAR 5 WINDRUSH CARIBBEAN BBQ GALLERY
Year 5 Windrush Caribbean BBQ June 2021
Black History Month 2020
We celebrated Black History Month with a variety of activities across the school. This included assemblies, the film project below, and storytime with Ms Crolle who visited different classes to share some of her favourite books.
Ms Crolle said:
"As always, I love hosting Black History Month at Swaffield each year. Returning from lockdown, following the birth of the Black Lives Matter movement UK was something I knew I would have to address. Our children have been asking some lovely questions and have contributed some thoughtful suggestions on how we can unify all races across the world. I'm so proud of them and pleased to be part of diverse school that welcomes everyone and celebrates difference."
You can find our assemblies on Swaffield's YouTube channel so why not take a look?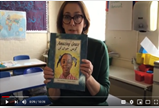 In Mrs Bennett's assembly, she invited some of her friends from around school to share their favourite stories:
https://www.youtube.com/watch?v=eKlmkNTLjGQ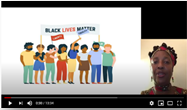 Ms Crolle's Black Lives Matter assembly explains in a clear and sensitive way the importance and impact of this worldwide movement, the need to combat injustice, and highlights the influence that even a single voice can achieve when it speaks out:
https://www.youtube.com/watch?v=1G8YufRWYrQ
In our "Red Card to Racism assembly" Ms Crolle interviewed her son, ex- Swaffield pupil turned professional footballer, Kieron Cadogan. Kieron talks honestly about the highs and lows on his journey into football and of his resilience needed to overcome adversities faced on and off the pitch. https://www.youtube.com/watch?v=EUnRfbpXeSQ&t=728s
Wandsworth Council invited Swaffield to produce a film to be part of their celebration of Black History Month. Watch it here.
We were really pleased to be the only school in Wa
ndsworth to take part in this and Ms Crolle worked with a group of our Year 6 children and the Council to produce our film. Our interviewers were Abdulrahman, Adeeza, Honor, Leo, Salma, and Tilak; our filming support was Abigail and Josiah.
The children and Ms Crolle invited Paul Chambers, a senior member of our local community, from West Side Church, for an interview which they filmed in our Arts and Media Studio, having planned their questions and interview technique in advance.
Our film is now part of a series of videos that the Council has created to commemorate and celebrate the history, achievements and contributions of black people in Wandsworth. Stories and profiles explore family histories, traditions, achievements and culture and share the stories and experiences of black people who live, work or study in the borough to recognise the outstanding contribution that black people have made in shaping our borough and allow the wider community to better understand the histories of fellow residents, colleagues and students.
We're very proud of our young film-makers and interviewers as well as being delighted to have our Arts & Media Studio, with its green screen and technology, as an excellent school resource that enables our children to participate in projects like this.
Past Highlights
Some events and celebrations happen just once but have made a huge impact on our children and our school. Here are some of the highlights:
Sporting Stars Inspire Swaffield Students
Children at Swaffield were inspired by three sporting heroes to use positive-thinking and tenacity to achieve their dreams.
The children welcomed Rio Olympic super-heavyweight silver medallist Joe Joyce, Bradley Skeete (British Welterweight Champion 2016) and Richard Williams (Twice Commonwealth Light Middleweight Champion) to an assembly that focused on determination and its key to success.
The boxers' visit was arranged with Earlsfield Amateur Boxing Club in Garratt Lane and was organised by Ms Crolle as part of Black History Month celebrations. Teachers at Swaffield encourage their pupils to have a 'Growth Mindset' which means that the children are open to the idea that trying their best and not being put off by difficulty will help them to achieve their goals. It's common for children to say "I can't do that yet" and to persist in trying again and again. This 'Growth Mindset' was echoed by the boxing sporting heroes who shared their own journeys to success.
Sri Chinmoy Peace Run – April 2016
Swaffield welcomed runners from 12 different countries to launch the UK leg of the Sri Chinmoy Oneness-Home Peace Run.
The Peace Run is a global relay which crosses 100 nations and touches the lives of millions of people from everyday folk to world leaders. The runners arrived with the Peace Run's flaming torch and shared two assemblies with Swaffield's pupils that included poems, singing and a celebration of the many countries of heritage (from Wales to China) represented by the pupils of Swaffield.
Swaffield children created their own beautiful peace flag to present to the runners. The visit culminated in all children and staff passing the torch in the playground – our Nursery children at the age of three are some of the youngest children ever to hold the peace torch - before it left on its way to Battersea Park.
The following day a number of pupils from Swaffield School took part in the Peace Run at the Peace Pagoda in Battersea Park celebrating the 30th anniversary of the Peace Mile in Battersea Park.
Bring-A-Pound For Nepal
Our Bring-A-Pound Day for Nepal to support Unicef's Nepal Disaster Appeal raised over £400.
We were really pleased to hear from Bhuban Karki, Under-Secretary, Ministry of Finance, Nepal who wrote to us in reply to a letter written to him by two of our pupils.
70th Anniversary of VE Day
We were joined by The Friendship Group from West Side Church for our fabulous VE Day 70th Anniversary celebrations.
To the delight of their cheering neighbours, the children, teachers and staff were dressed in red, white and blue, waving Union Jacks and singing as we paraded with parents down Swaffield Road, Garratt Lane and then back to school.
During the parade, The Friendship Group had the difficult task of selecting a winner in a Cake Competition into which parents had entered some spectacularly decorated cakes and cupcakes with a VE Day theme. Once back at school the children, teachers, staff and parents gathered in the playground. There, they listened to some war poems read by two Year 6 pupils and wonderful memories of VE Day 1945 shared by three members of The Friendship Group from West Side Church, two of whom had been pupils at Swaffield School during World War II.
Not even the typical British weather could affect the wonderful afternoon which was rounded off with rousing renditions of wartime favourites "It's a Long Way to Tipperary" and "Pack Up Your Troubles" which were sung beautifully and with passion despite the falling rain. The finale of the day came when Swaffield's Chamber Choir sang a very moving "White Cliffs of Dover" to the members of The Friendship Group.