CARIBBEAN COOKERY BRINGS WINDRUSH HISTORY TO LIFE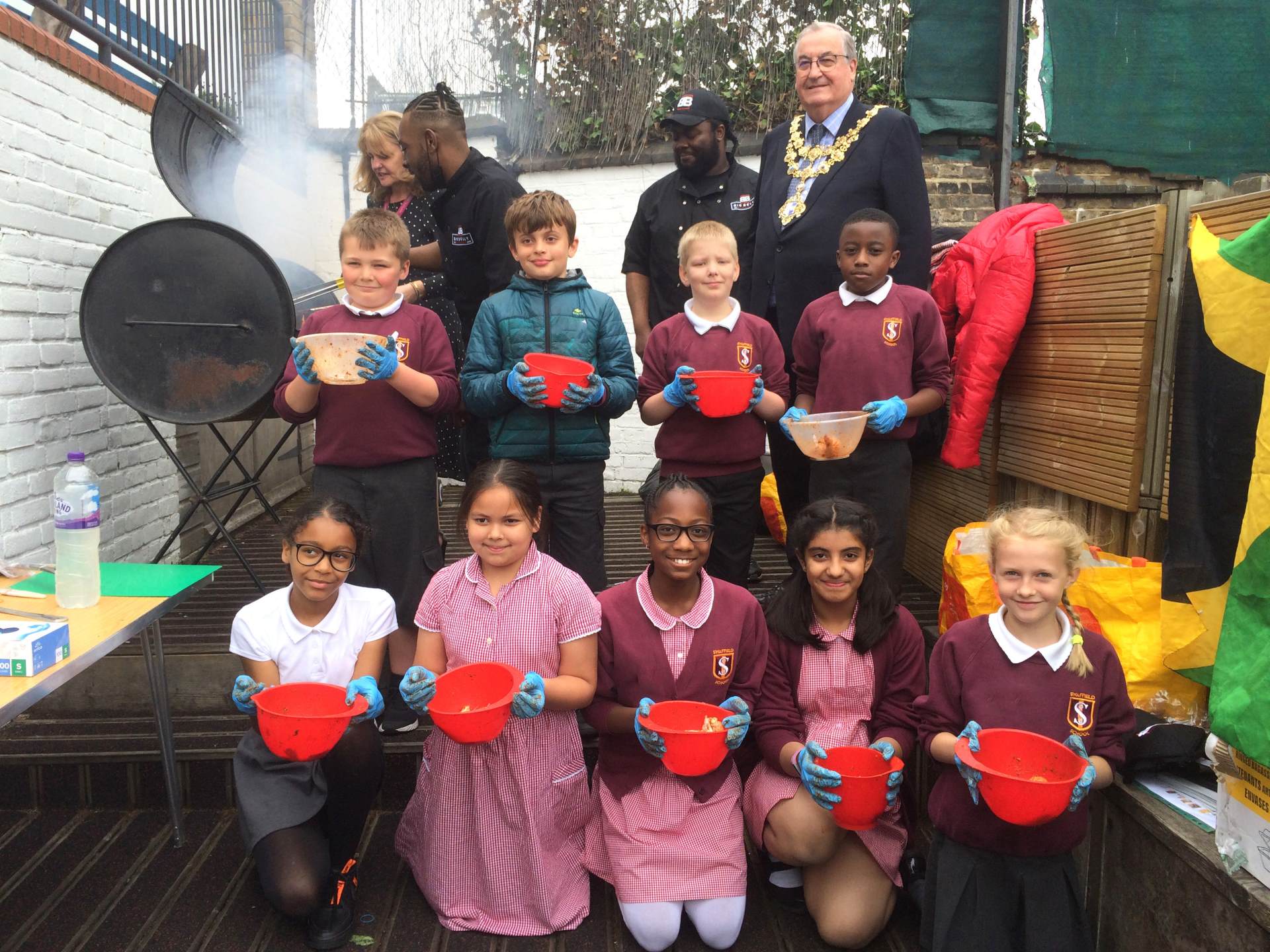 The true taste of the Caribbean brought to life Swaffield School's Year 5 studies of the ship Empire Windrush linking their history topic with their food technology lessons. With special guest The Worshipful the Mayor of Wandsworth, Councillor Richard Field, the event marked the anniversary of the ship's arrival on Tuesday June 22, 1948 with passengers from the countries of the Caribbean, including Jamaica, invited to come to Britain to help rebuild the country after the Second World War, as well as the positive impact and legacy of the Windrush Generation.
Swaffield's Year 5 choir set the scene with a fabulous rendition of "London is the Place for Me" by Lord Kitchener, who was on the Empire Windrush. The calypso rhythm song came over with the Windrush Generation celebrating the hope and excitement of families coming from the Caribbean.
Year 5 children were thrilled with a hands-on demonstration of Caribbean cookery with the talented staff and 'Dad' from Big Belly Kitchen in Tooting. The children learned to prepare delicious jerk chicken and jerk vegetable skewers to accompany seasoned rice - what a delicious treat to take home at the end of the day.
Click the picture below to watch our film:


Ms Crolle, Swaffield's Community Liaison, arranged the cookery workshop and said:
"Year 5 have been learning about the hugely positive impact that the Windrush generation had in rebuilding this country after WW2. This event was quite literally a taste of the food that would have reminded all those people of the home they had left behind to start a new life. We are grateful to the excellent chefs from Big Belly Kitchen for sharing their skills with us and are proud to share this with The Worshipful the Mayor of Wandsworth, Councillor Richard Field. "

Ms Hamilton, Swaffield's Head Teacher, said:
"This event was an imaginative way to bring history to life for our Year 5 children as well as inspiring them by meeting these entrepreneurial chefs. The cross-curricular linking of history and food technology has had a really positive impact on the children's learning."
YEAR 5 WINDRUSH CARIBBEAN BBQ GALLERY