125th Anniversary
We're excited to be celebrating Swaffield School's 125th Anniversary this year at our Summer Fair on Saturday 25th June from 12pm to 3pm.
We'll share more details as plans develop - please revisit this page to find out!
Swaffield Newsletter 8, published in March 2022, gives lots of details and a brief history:
Take a look here.
125th Anniversary Parade
- Friday 24th June at 2.15pm
On Friday 24th June at 2.15pm, we're having a whole school parade representing every era from Swaffield's history.
If you're around, please come and give us a wave and a cheer as we process through our local neighbourhood.
ALUMNI
(former pupils)
As we celebrate Swaffield School's 125th Anniversary this year, we'd love our former pupils to be part of our celebrations.
How To Get Involved:
Swaffield Summer Fair - Saturday 25th June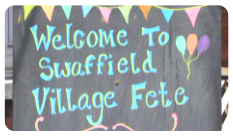 Join us at the Swaffield Summer Fair - 12pm to 3pm, which is the focal point of our 125th Anniversary celebrations. This is a family and community event where we'll get together to have fun and celebrate our anniversary. We'll have lots of stalls at the event and also some special guests. Want to support us? Email: pta@swaffield.wandsworth.sch.uk
DONATE


If you'd be willing to make a donation to our alumni fund we'd be grateful as this will give ongoing support to Swaffield children.
Funds will be used to support school initiatives for the benefit of current pupils. One key item for which we're raising funds is a huge picture to go on the cupboards in our new library, which is being installed in June.
Look Around Your Old School:
On the day of the summer fair, there'll be a chance to come into the school building and have a look around - perhaps visit your old classroom!
Register your interest in doing this by clicking on the button below:
Share A Message:
Share a memory of Swaffield School in our 125th

Anniversary celebration memories book:
Please:
- either sign the book on the day of the summer fair.
- or, if you're not able to attend, please email us your message
Send your message to

news@swaffield.wandsworth.sch.uk
with the subject line:

Memories Book. Messages should be in this format:
Your name / the dates you attended Swaffield School / a short summary of your best memory of your time here.


125 Things
We're collecting 125 things that represent Swaffield's history. If you have a photo of something or an object (that you'd be happy for us to keep) that you feel could help us to illustrate our 125 year history, tell us what it is of and its role in Swaffield history.
These need to be sent to us by 11th May

so that they can be included in an exhibition at the summer fair
Email news@swaffield.wandsworth.sch.uk with the subject line: 125 Things

and tell us what the photo is of and when it was taken. If you have an object that you would like to give to the school for us to keep, please let us know.


Inspire The Next Generation
We'd like to share inspirational stories from former pupils with our children. You don't have to be / have been a rocket scientist or a concert pianist for your career and life to be an inspiration!
Swaffield is a highly creative, forward-thinking community school where the children are taught the skills and knowledge to succeed not only in school, but in life. We want every child, whatever their background, to succeed and to be inspired by people who help them see that this is possible.
Do you have a story to inspire them? Write something to tell us where your education took you, about your career choice and your working life/achievements. Our aim will be to share these stories in writing and also hope to invite some past pupils in to speak at an assembly.
To offer your story, please email

news@swaffield.wandsworth.sch.uk
REUNION Information
Swaffield 125th Anniversary Facebook page is for former pupils and has been set up by former pupil Dawn Gibbons, who is working with us to plan our celebrations. Some of them are planning a reunion after the fair. Visit their Facebook page to find out more:
https://www.facebook.com/groups/732457791071408
Launch
When we announced our plans on 20th February there were
125 sleeps to go until the celebrations at our Summer Fair on Saturday 25th June.