PSHE
'Today's children and young people are growing up in an increasingly complex world and living their lives seamlessly on and offline. This presents many positive and exciting opportunities but also challenges and risks. In this environment children and young people need to know how to be safe and healthy and how to manage their academic, personal and social lives in a positive way'.

DfE Relationships Education, Relationships and Sex Education and Health Education Statutory guidance for governing bodies, proprietors, headteachers, principals, senior leadership teams, teachers. 2019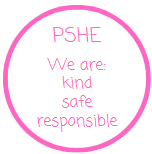 Our school is committed to promoting the health and well-being of the whole school community and fully recognises the important relationship between well-being and learning. Through PSHE and the wider curriculum we promote the spiritual, moral, cultural, mental and physical development of pupils at the school and work to prepare pupils at the school for the opportunities, responsibilities and experiences of later life. PSHE education is extremely important to us, is at the heart of our school ethos and is embedded throughout all areas of the wider curriculum.
At Swaffield we use the PSHE Association's Programme of Study to teach PSHE from
Year 1 to Year 6. There are different themes each term, which are followed by every year group. These are:
Autumn Term – Health and Wellbeing
Spring Term – Relationships
Summer Term – Living in the Wider World
Each year group covers content related to each theme, ensuring that a spiral programme is in place: one that revisits themes, gradually extending thinking, expanding knowledge and developing skills. Where possible we make cross-curricular links between PSHE and other subjects, for example English, Religious Education, Physical Education, History and Geography.
PSHE learning comes in many different forms: through whole-class teaching, group activities, individual tasks, assemblies, outside speakers, cross-curricula lessons and discrete lessons. During PSHE sessions children are encouraged to both ask and answer questions, to deepen their knowledge and understanding.
A great deal of time is spent considering scenarios and possible responses to them.
Relationships and Sex Education (RSE)
Under the new guidance issued by the DfE, by September 2020, Relationships Education will be compulsory at primary school. We believe that, to be effective, RSE should always be taught within a broader PSHE education programme. RSE enhances and is enhanced by learning related to topics including anti-bullying; keeping safe on and off line; keeping physically and mentally healthy, learning about the dangers of drugs, alcohol and tobacco; and the development of skills and attributes such as communication skills, managing peer pressure, risk management, resilience and decision making. We use the Medway scheme of work to teach RSE, which links directly to our scheme of work for PSHE.
Read our Scheme of Work here.
RSE will be taught in the second half of the Summer Term and we will inform parents in writing before lessons take place. Details of lessons are available on request. A charge may be made for photocopying, as stated in our Charging and Remissions Policy.
Although the Relationships part of RSE is compulsory, parents still have the right to withdraw their child from Sex Education lessons. As we believe participation in these lessons is important for all children, we would like the opportunity to discuss any withdrawal with you to ensure there are no misunderstandings about the nature of the programme and in order to clarify which parts of the programme are statutory and required by the National Curriculum. We therefore request that you speak to your child's class teacher before making your decision. Any parent wishing to exercise their right to withdraw must put their request in writing and give this to the School Office. All requests will be followed up with a meeting with the Head Teacher to discuss the reasons for the decision.